By Company Bureau, 1st June 2021
Despite more than a year of uncertainty and continuing challenges brought on by Brexit, System updates and worldwide pandemic, Ireland has seen a 24% increase in new company registrations in 2021.
In the first four months of 2020, the pandemic took hold and major lockdown restrictions were enforced in Ireland, forcing many businesses to close their doors. Ireland's thriving business centre was forced to adapt, and many businesses shifted their employees to remote working arrangements. The ability for entrepreneurs to form new business during this time was severely limited due to the restrictions and social distancing. The number of new companies registered in the first four months of 2020 was only 6,769 compared to nearly 9,000 new registrations in the same period in 2021.
The number of new company registrations has increased by 24% from the same period in 2020. This growth is extremely impressive given that Ireland was under strict lockdown restrictions during the first four months of 2021. The numbers are very promising that Ireland will be able to recover from this pandemic and re-establish its previously thriving business centre. With the vaccine roll-out underway and the restrictions easing we expect this remarkable increase in new company registrations to continue throughout the year. At this rate, we could see as many as 27,000 new companies registered by the end of 2021 which would be extremely impressive given that the highest number of new formations on record was 22,723 in 2019.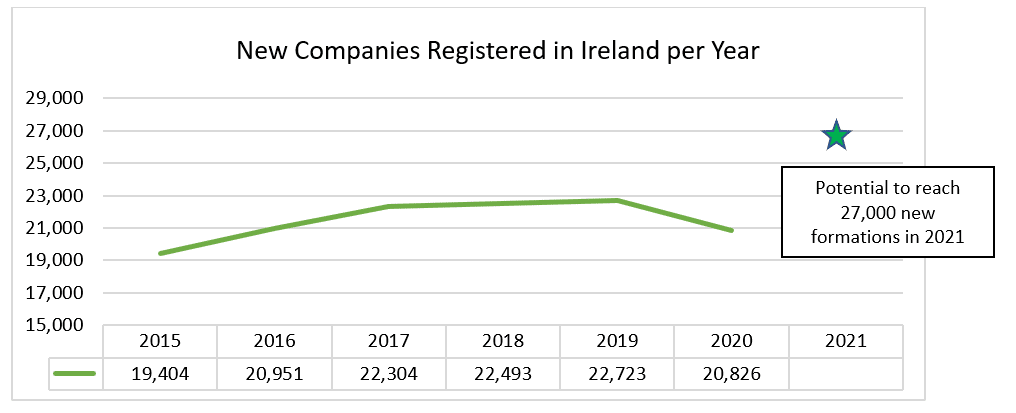 How long does it take to register a new company?
The head of the Companies Registration Office (CRO) has reported that is it currently taking longer than usual to facilitate new company registrations mainly because the number of companies being incorporated is so high. Due to Company Bureau's efficient process and long-standing relationship with the CRO we are currently able to register new companies within ten business days. Our formations team are very thorough and only submit accurate and complete company applications to the CRO reducing the likelihood of further delays. A Private Company Limited by Shares (LTD) is still by far the most popular company type registered in Ireland. The fastest way to start the processes of registering a new company is to Order Online.
Why did new company registrations drop in 2020?
The biggest drop in new company formations was seen when Ireland went into the initial lockdown in March 2020. In the second half of March new company formations dropped by nearly 40%. In the first half of March 2020, there were 1093 new companies registered compared to 666 companies registered in the second half of the month. This drop continued into April where there were only 914 new company registrations in the entire month. During the first lockdown, the CRO office closed for two weeks before resuming operations at a reduced capacity with many staff working remotely. This shift created a backlog of company filings, since then the CRO has been unable to meet the turnaround of 5 working days as specified in their service level agreement.
We continued to see low levels of new company registrations throughout Q2 of 2020. Ireland attempted to slowly ease restrictions throughout Q2 but due to the rising number of Covid cases, restrictions were prolonged, and businesses had to cope with false starts and re-closing of their physical storefronts to customers. Despite almost no ability to provide client services face-to-face, the people of Ireland showed outstanding entrepreneurial drive the formations industry saw a strong rebound in Q3 2020. The number of new company registrations during July, August, and September were back on par with the previous year. In Q3 of 2019, there were 5,457 new companies formed compared to 5,477 formed in Q3 2000.
Ultimately the number of Covid cases was unable to be controlled and on Halloween week 2020 the country was placed on level 5 lockdown restrictions. However, the number of new company formations remained impressively strong until the end of November. December 2020 had the lowest number of new company formations in the entire year, only 856 company were incorporated by the CRO.
The Effect of the CRO IT Infrastructure Launch in December 2020
The CRO were finally ready to launch their new IT infrastructure on 16th December 2020. This complete overhaul had been highly anticipated by accountants, legal professionals and Trust and Corporate Service Providers in Ireland. However, it was not expected to be launched so late in the year, normally the CRO incorporates companies for the first two weeks in December leading up to the Christmas break. But with the new system set to go live on 16th, the CRO were only able to processes new companies during the first week of December. As a result, only 856 companies were incorporated in December leaving a backlog of company requests to be completed when business hours resumed in January 2021.
Since the system launch, the CRO has been working to resolve a variety of issues with the new system. Irish professionals rely on this system to process a variety of company filings including company annual returns. Due to the pandemic, the CRO allowed for an extension on annual returns to be completed by 28th May 2021. However, will so many individuals accessing the system to make lodgements before the deadline the system was extremely slow and the CRO had no choice but to issue an additional extension to 11th June 2021.
Conclusion
Now that the vaccine roll-out in Ireland is underway and the restrictions are being relaxed many businesses are opening their doors to the public once again. Provided that the vaccine distribution continues to plan and the country can allow for the safe return to work we expect to see a return of a healthy and prosperous Ireland. Should you have any questions about the information covered in this article or if you would like more information on new company registrations please don't hesitate to Contact Us or call +353(0)1 6461625. A member of our Company Secretarial team would be happy to assist you.
Disclaimer This article is for guidance purposes only. It does not constitute legal or professional advice. No liability is accepted by Company Bureau for any action taken or not taken in reliance on the information set out in this article. Professional or legal advice should be obtained before taking or refraining from any action as a result of this article. Any and all information is subject to change.