By Andrew Lambe, 19th August 2020 (Updated 1st December 2020)
The Companies Registration Office (CRO) will implement a new and improved IT system to replace the existing CORE interface by the end of 2020. Whilst the CRO digital transformation project has experienced some delays due to the ongoing COVID-19 situation, the new infrastructure is now scheduled to go live on the 16th December 2020. All existing accounts will be automatically transferred to the new platform. This will be the first time in 22 years that the CRO have over-hauled their IT system.
It was previously announced that the new CRO CORE system would go live in Mid-September 2020, however, to ensure a smooth changeover the CRO decided to postpone the go-live date until December after the key peak filing periods have passed.
What does the changeover mean?
The main feature and advantage of the new cloud-based CRO CORE system will be the ability to upload scanned PDF copies of signed documents. The current system is limited in that only 'wet' signatures (original signatures) are accepted on most document filings such as B1s, B10s etc. Professional Advisors will need to plan for this – CRO will close the office to new filings for one week before the 'go-live' date, so that they can process all outstanding submissions and signature pages. Once the new platform goes live, all electronic forms and signature pages generated under the current and soon to be 'old' CORE system will no longer be accepted. We recommend holding off on generating these from late November until the new system goes live to avoid possible duplication of work on your side.
Should you require a new company formation (or any company secretarial assignment) completed this side of Christmas, we would strongly advise that you act now to ensure that orders are processed and signature pages delivered to the CRO before 7th December. Contact us.
Key Features of the CRO Digital Transformation Project
Scanned copy signature documents accepted
New one-step process and 56-day deadline for annual returns
Cloud-based system
Customer dashboard with self-service account management
Enhanced search functions
Integrated document ordering
Error messages during document creation
Increased number of online forms (95% of all forms)
Automatic account top-up facility available
Allows third parties to pay filing fees directly to the CRO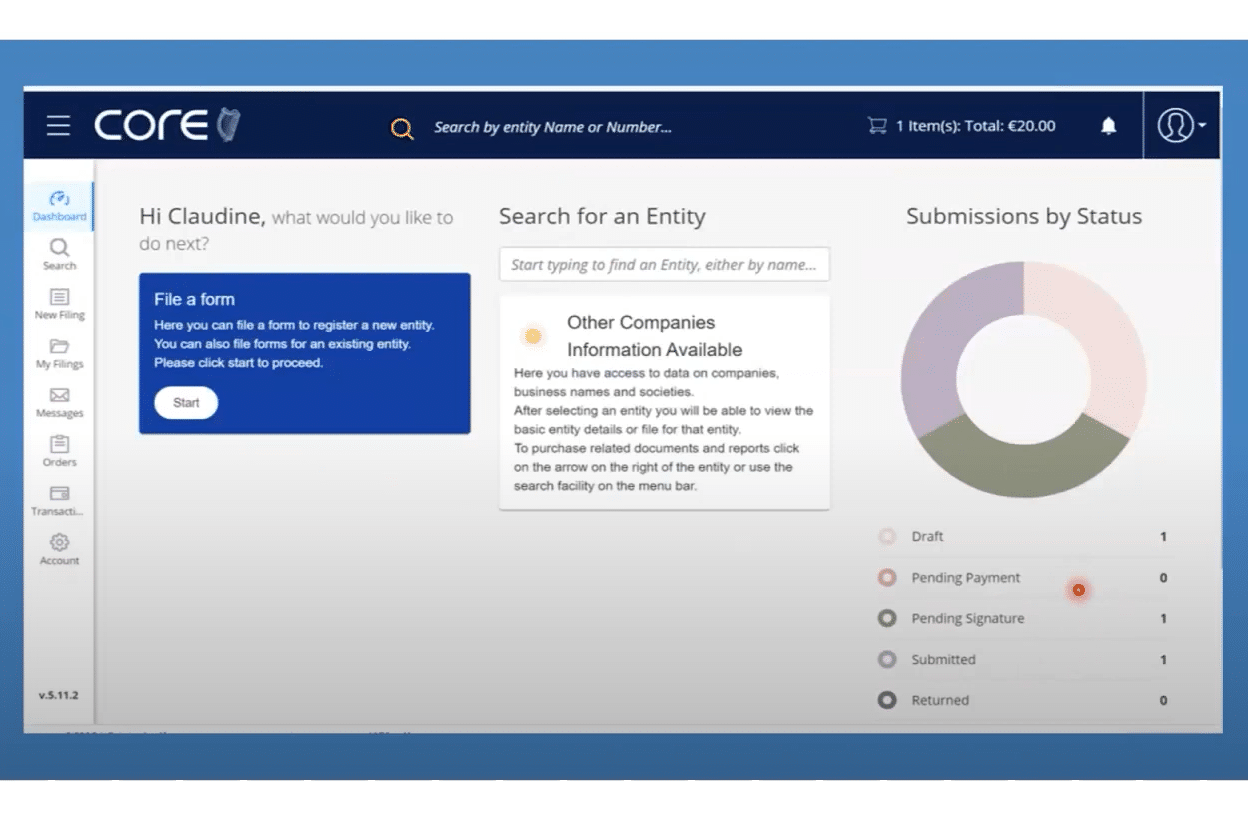 Preview of the New CRO CORE System Dashboard
Functionalities of the new CRO CORE system
The CRO digital transformation project aims to provide a more intuitive and streamlined service for all CRO Business. The new system will feature a customer portal dashboard which contains details of submissions in draft form, as well as submissions pending and other relevant information. This cloud-based system will also keep users updated on any relevant companies that are being watched and provide a dynamic view of their status. All the various entity types and queries can be searched for now under the one search bar, including LPs and Co-ops, as well as disqualified Directors. The new system has a significant piece of functionality that will prevent a filing being completed before all necessary documents are filed, this is expected to significantly reduce filing errors. There will be 20 additional forms available online, which will result in 95% of the total CRO forms being online. There will be some other clever features such as the ability to email a link directly to clients for the payment of filing fees at the end of the filing process, the ability to generate individual signature pages for forms if required and the ability to only file forms appropriate to the company status and type. When documents are purchased, they will be immediately available rather than the existing process of having to wait for an e-mail.
Annual Returns
The launch of the new CORE system will allow the CRO to implement an important section of the Companies (Amendment) Act 2019, which was published in January 2020. This will change the required time for submitting annual returns for Irish Companies. The annual return filing procedure will change from a two-step to a one-step process; companies will be able to electronically file the annual return, upload financial statements and deliver any signature pages to the CRO anytime within a 56-day grace period. This does not allow any extra time for filing the annual return, but it will simplify the process making it easier for companies to meet their deadline. The only downside is that the financial statements must be uploaded before the signature pages can be generated, however, B1s can be signed using ROS and an overall certification page can be signed by the client in advance of uploading the accounts.
Conclusion
The CRO has reported that the project is being delivered on budget, and extensive testing has been ongoing. As with any new system, there have been some snags and the CRO are actively working with software vendors to ensure the system works exactly as intended and that any raised issues are resolved before the launch date. They will be putting on a series of webinars to showcase the new system before it goes live with the first two over-subscribed. We expect the final product to deliver a user-friendly and dynamic customer portal and enhanced electronic filing capability with the long-awaited acceptance of scanned signature documents.
Please don't forget to follow us on LinkedIn, Twitter and Facebook to keep fully updated. We will provide more information about the new CRO CORE System as it becomes available. If you require any assistance incorporating new Irish companies or meeting annual filing requirements for existing companies, please call us on +353 (0) 1 646 1625. Or complete our Contact Form and a member of our expert team will respond within 2 business hours.
Disclaimer This article is for guidance purposes only. It does not constitute legal or professional advice. No liability is accepted by Company Bureau for any action taken or not taken in reliance on the information set out in this article. Professional or legal advice should be obtained before taking or refraining from any action as a result of this article. Any and all information is subject to change.