By Caitlyn Buchanan, 8th March 2017 (Updated 15th June 2022)
Choosing a company name is an important step because it will become an integral part of your brand. In Ireland, there are a number of company name restrictions. Company names must be approved and are granted at the Companies Registration Office's (CRO) discretion. It is recommended to have a couple of options in mind when using this guide to avoid your company name being rejected.
What are the company name restrictions?
The name is already registered
It is similar to an already registered name
It is suggestive of state sponsorship
It is offensive
It may be tempting to use a provocative name to grab your consumer attention but it is not likely to be approved. Even if approval is granted you could you come into problems after you start trading. For example, in the UK, French Connection went to court and won the right to continue using the potentially offensive advertising slogan 'FCUK' on its clothing and jewellery. A costly and time-consuming legal battle could be detrimental to a start-up business and is best avoided.
Can I use my previously registered company name?
If you have registered a company name in the past that has ceased operations the name may not be made available for re-registration. Generally speaking, a company must be "Dissolved" for 20 years before the name becomes free to be registered again. The 20-year rule applies to companies who have stopped trading and were subsequently struck from the registrar (be it voluntary or involuntary).
What if my name is similar to an existing company's name?
Our best practice is to be original and create a clear distinction between you and other companies. The Registrar of Companies will refuse a company name if it is similar, identical or phonetically the same as a company already registered. If you do want to register a name that is similar to an existing company, it is generally recommended that extra distinguishing words create a sufficient distinction. Certain words, accents, abbreviations, punctuation marks or numbers are not significant enough to provide a distinction.
Non-distinguishing words include;
"company", "co", "corporation", "trading", "and", "&", "services", "partners", "limited", "Ireland", "Dublin", "West", etc.
For Example; West McDonald's would not be approved as a company name.
Can I use Gaelic words in my company name?
If you wish to use Gaelic, the Celtic language of Ireland when choosing a name for your company, the entire name must be in Gaelic. Registered company names must be either 100% Irish or 100% English, you cannot use a combination of both. If you choose to use a Gaelic company name to register a Private Company Limited by Shares (LTD), instead of LTD the company will be registered with the Gaelic word for Limited. For example; 'Gaelic Name' Teoranta. 
What are the restricted words?
The approval of relevant bodies is required to use certain words, this applies to the following:
"Bank", "Banc", "Banking", "Banker"
Permission is required by the Central Bank of Ireland.
"Hollybank", "Sweetbank", "Canal Bank", "Bancorp", "Banks"
This rule stands even if a company does not intend to carry out banking business. Even if your surname is "Banks" you cannot use it in your company name.
"University", "Institute of Technology", "Regional Technical College" OR "Ollscoil", "Institiúid na Teicneolaíochta", "Coláiste Teicniúil Réigiúnach"
Permission is required from the Department of Education.
"Charity"
Further information will need to be provided to the CRO to support the application.
"holding", "group", etc.
These words imply specific functions, further information may be provided to the CRO to support the application. To use Group in your business name it must be registered with a company or partnership, it is prohibited to be in the name of the business if the business is an individual registering as a Sole Trader (connected to their PPS number).
"Society", "Co-op", "Cooperative" or "Co-operative"
Permission is required from the Registrar of Friendly Societies.
"SE"
This is a European Company designation for "Societas Europaea" (Latin name) only. The initials 'SE' can't be used at the beginning or end of the name.
".ie' or '.com"
Domain names are not allowed in company names. However, you can register a Business Name attaching to your company once you can prove you own this domain name.
"Eire"
The Gaelic word for Ireland is "Eire". Eire can only be used in a company name if the company name is Gaelic. If your company name is English you must use the English word, Ireland.
"Architect"
This title or description implies that the person is so registered and cannot be used unless a Notice of Determination has been issued by the Royal Institute of the Architects of Ireland (RIAI). However, the word "architect" can be used when the name does not imply a registered architect such as "landscape architect", "naval architect", "architectural technician", or "interior design architect".
What are the prohibited words?
These words are prohibited and will not be accepted under any circumstance.
"Standard"
"Credit Union"
Prohibited under the Credit Union Act 1997.
What are company type-specific names?
Only certain company types are allowed to have the following words/abbreviations in their name:
Limited (LTD) or Irish equivalent Teoranta (TEO)
Public Limited Company (PCL) or Irish equivalent Cuideachta Phoiblí Theoranta (CPT)
Designated Activity Company (DAC) or Irish equivalent Cuideachta Ghníomhaíochta Ainmnithe (CGA)
Company Limited by Guarantee (CLG) or Irish equivalent Cuideachta faoi Theorainn Ráthaíochta (CTR)
Unlimited company (UC) or Irish equivalent Cuideachta Neamhtheoranta (CN)
Societas Europaea (SE) the European Company designation
How can I check my company name?
The first step to your company formation is to check whether your chosen name is available. Please have at least two options in mind as your first choice may not be available. You can submit your 1st and 2nd choice company names, along with your contact number by email and we will contact you within 1 business day (though this is normally within the hour). Once your company name is established, we can proceed to form the company on your behalf. NOTE This is a name availability check service for clients setting up a new company only.
Follow this link to check your proposed Irish company name: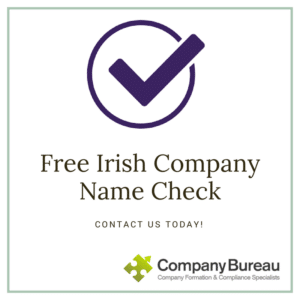 Is my Company name guaranteed?
Your company name is only guaranteed once you have received a certificate of incorporation, confirming the company has been registered with your chosen name. The reason for this is that your company name is only provisionally approved by the CRO (Companies Registration Office) until they receive the documents to incorporate. This is a possibility that another company set up with a similar name before the CRO receives your incorporation documents.
We strongly advised you do not incur any expenses relating to a company name until you have the certificate of incorporation. Any costs incurred will not improve your chance of being accepted nor merit reconsideration if you have been rejected. Additionally, there will be no compensation for any activities including logo design, preparation of building signage, the printing of business cards or other stationery.
To find out more information on company formations or for more information on any of the items covered in this article please email formations@companybureau.ie. or call +353 1 6461625.
Disclaimer This article is for guidance purposes only. It does not constitute legal or professional advice. No liability is accepted by Company Bureau for any action taken or not taken in reliance on the information set out in this article. Professional or legal advice should be obtained before taking or refraining from any action as a result of this article. Any and all information is subject to change.