Irish Company Formations with Company Bureau. Experience, Trust & Service
Company Bureau (CompanyFormations.ie) has vast experience with Irish company formations, business registrations, and company compliance. In business since 1997, we have incorporated over 35,000 Companies for our clients, who consist of Entrepreneurs, Accountants, Solicitors, Fiduciary Agents & Irish and International Companies. With our service guarantee and quick response times, we will manage your company application from start to finish and will provide you with full support and expert guidance after your company is registered.
Click here to see our procedure and what is included in our company formation package. Order a company with us today and get a free .ie or .com domain name for one year!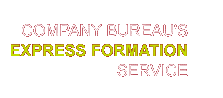 Please choose one of the options below:
Contact us now for further details
Company Bureau Formations ULC is authorised to carry on business as a Trust and Company Service Provider (TCSP) by the Department of Justice and Law Reform of Ireland (Authorisation number TCSP APP/627/2010)